LIKE HelloBeautiful On Facebook!
Tyra Banks Hits The Big 4-0: Here's The GIFS To Prove It was originally published on hellobeautiful.com
1. Happy Birthday Tyra Banks!
Can you believe Tyra Banks is 40 years old?! My goodness, where's my moisturizer?!
Everything about this woman is epic. From her killer walk to her enviable body to her I-can't-believe-this-is-real "smize," Tyra Banks gives me life.
In order to properly celebrate Tyra's 40th bday milestone, I am serving you 40 of her best GIFS ever. There will be a runway walk, "smize" and a signature Tyra blowup. Enjoy!
2. Tyra's Known To Be Crazy
And there's nothing I love more than her over-dramatics on her modeling reality show, "America's Next Top Model."
3. Tyra's The Woman Of Many Faces
So what does this one say?
4. Tyra's Real Life Photo
Watch closely and you can see her earrings move.
5. FIERCE!
Miss Tyra serves fierce like a drag queen hunty.
6. Trya's Giving…
Rihanna realness.
7. Tyra Can Even Make Rollers Look Hot..
Or nah?
8. If Tyra Put You Under A Spell…
What would you do?
9. Hey Tyra, Are You Happy To Be 40?
Oh.
10. Don't Cry Tyra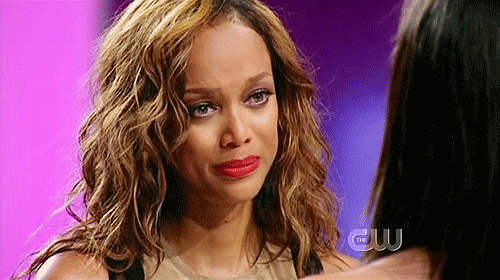 40's not so bad.
11. Actually Tyra…
I do.
12. Tyra's Serving…
Snow White realness with a twist.
13. Tyra Does Not Approve
So get your life together.
14. Word Of Advice From Tyra
Keep your eyes on the prize!
15. No Really…
Keep your eyes on that damn prize!
16. Tyra's A Teacher
Have you learned anything today?
17. All My Single Ladies!
Whoa uh ohhhh!
18. This Is How You Sell A Product
That doesn't exist.
19. Remember When The World Thought Tyra Was Fat?
Yeah.